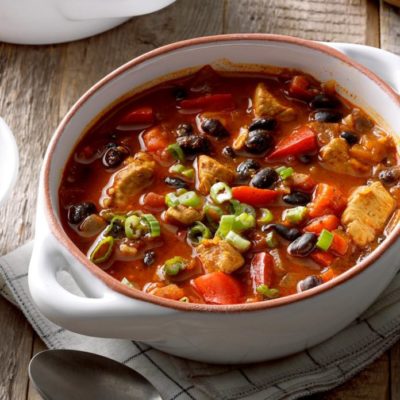 Yields:

6 Servings
Difficulty:

Medium
Prep Time:

25 Mins
Cook Time:

30 Mins
Total Time:

55 Mins
This is a very adaptable recipe. You can make it very hot or mild, or anything in between. You can make it chunky, or cut the vegetables smaller for a smoother chili. [The original recipe was due to Colin Bauer.]
Sauté chicken in half of the oil, with garlic and some of the onions and bell peppers, together with Worcestershire sauce, Cayenne sauce, paprika, salt and pepper, and put aside.

Sauté all the vegetables in the remaining oil, starting with the carrots and ending with the mushrooms. Do most of your seasoning (to taste) here, but save some cumin and chili powder for when the beans are added. Don't add too much Cayenne pepper right away.

Combine vegetables, chicken and beans in a large pot. (If you insist on draining the beans, you will have to make up for the lack of liquid and taste some other way -- it's up to you.)

Adjust seasoning to taste, and allow to simmer for a while (but keep the vegetables on the crisp side). Add a little vegetable or tomato juice to make the chili thinner if necessary.

Lastly, add the secret ingredient: Parmesan cheese! Sample and enjoy!